Cassiobury Junior School in Watford, Hertfordshire, has opened a new multi-use games area (MUGA). Designed and built by Playinnovation, the 37m x 18.5m ball court features a brightly-coloured playing surface and 3m-high fencing, providing the school with an inspirational space for children to get active in.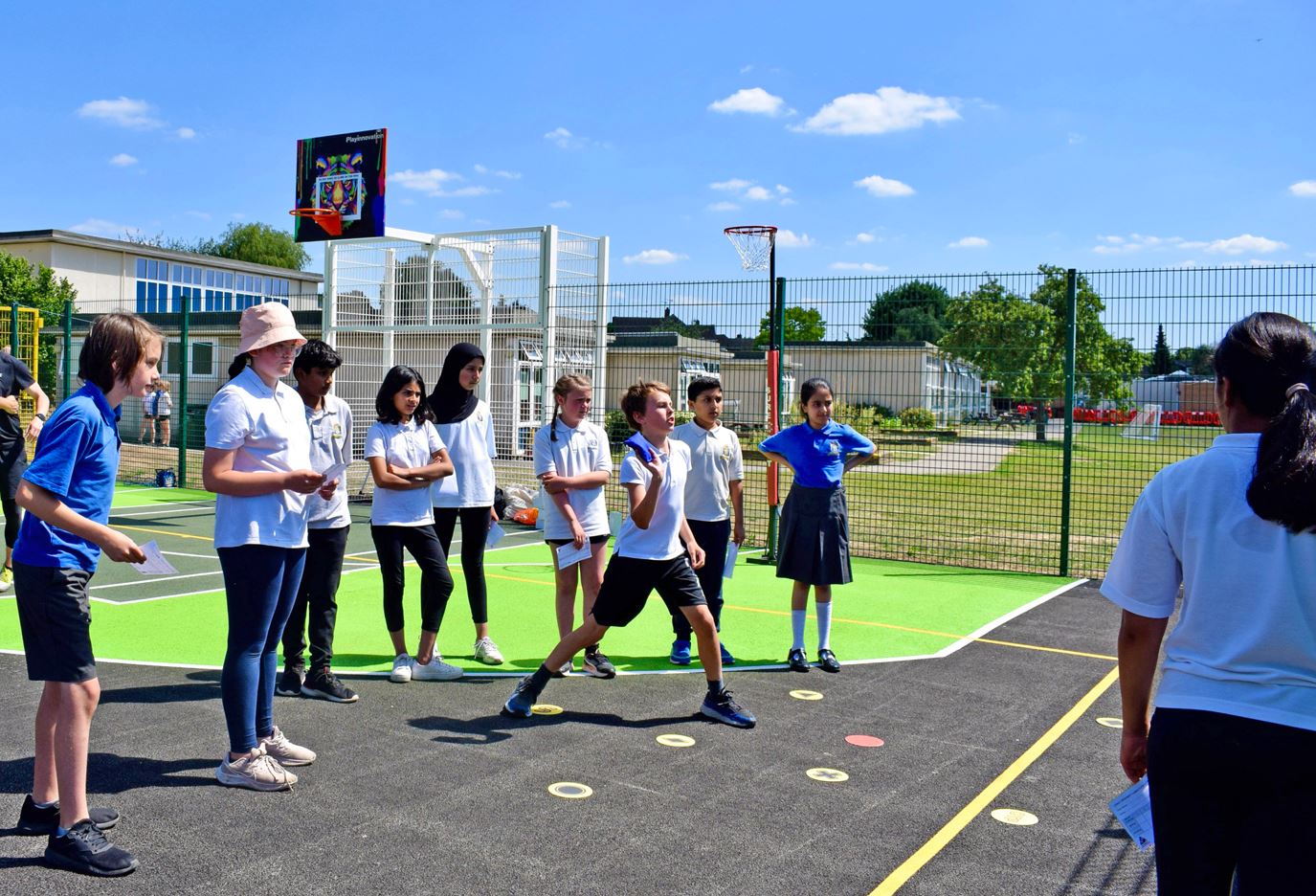 The MUGA comprises a full-size netball court, basketball court and small-side football area and also features two of Playinnovation's educational Target Games, giving children the opportunity to play darts, snooker, pool and cricket-based games. The MUGA will not only provide the school's pupils with a new space to get active in, but will also act as a hub for a number of local clubs and activity groups.
Cassiobury Junior School's Business Leader, Keith Armstrong, says: "The school is used extensively by the local community for tennis, football, rugby, scouts, beavers, and netball. The new MUGA provides extra space and improved facilities to support our community and the school.​"
The new ballcourt replaces an old pool, which had become surplus to requirements.
"We used to have an outdoor swimming pool that had become unfit for purpose due to health and safety changes through the years – and the high costs of maintenance and repair," Keith Armstrong says.
Playinnovation won a competitive tender for the project in 2021 and worked together with the school and its team – led by the head teacher, Jenny Sherry – to secure planning for the project.
"Playinnovation provided a design that more than fulfilled our requirements within the pricing structure we had allocated for the project," Keith Armstrong adds. "We're delighted with the end product and the enthusiasm and professionalism with which the Playinnovation team tackled the project."
Playinnovation founder, Marco Boi, says that the partnership between Cassiobury Junior School and Playinnovation – which has its HQ just one mile away – will continue beyond the launch of the MUGA. "As the school closest to us, we will be supporting Cassiobury Junior as best as we can in the future and will look at ways in which we can add value to the ball court," Boi says.
​To celebrate the launch, one of Playinnovation's ambassadors, football freestyler and entertainer, John Farnworth, visited the school on Wednesday 22 June to demonstrate his skills and also carried out a training/skills workshop for pupils.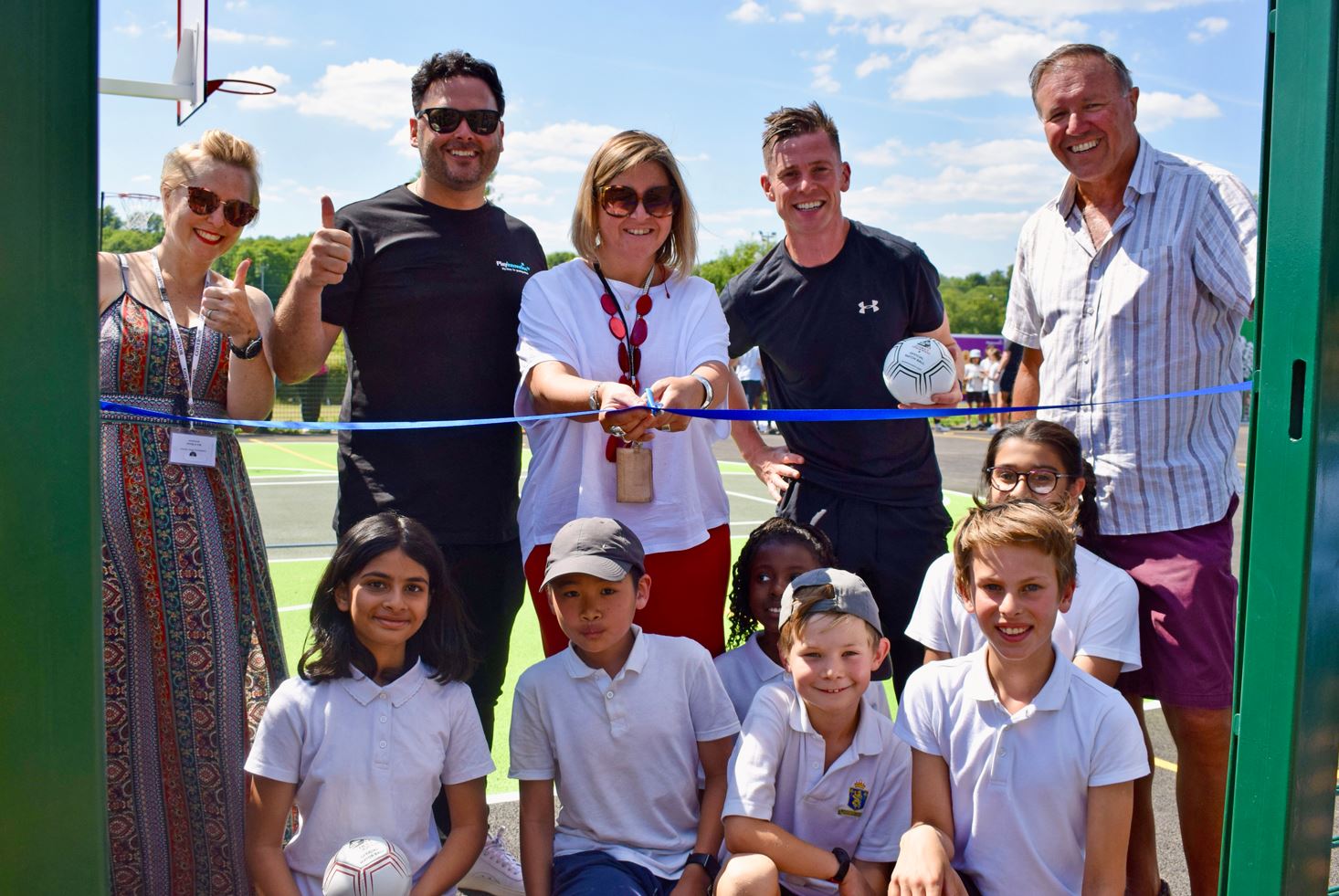 From left to right: Kirra Moser (Chair of Governors at Cassiobury Junior School), Marco Boi (Playinnovation founder), Jenny Sherry (Cassiobury Junior School Head Teacher), John Farnworth (football freestyler), Keith Armstrong (Cassiobury Junior School Business Leader) and children from the school.
https://www.the-educator.org/wp-content/uploads/Promethean_The-Educator_340x156_logo-002-2.jpg
0
0
admin
https://www.the-educator.org/wp-content/uploads/Promethean_The-Educator_340x156_logo-002-2.jpg
admin
2022-06-30 11:57:20
2022-06-30 11:57:20
Playinnovation helps Cassiobury Junior School transform an unused outdoor pool into a multi-sports hub